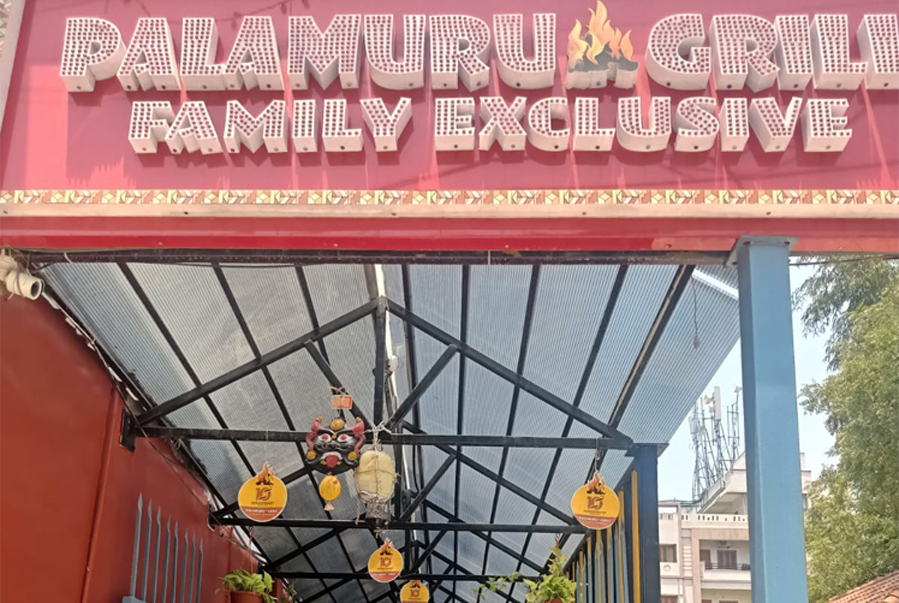 Facilities
Air Cooled Indoor Dining
Outdoor Seating
Full Bar With Draught Beer
Valet Parking
Home Delivery
Takeaway
WiFi
Smoking Area
Recommended : Table Booking

Monday to Sunday (All Days)
11:45am to 4:00pm and
6:45pm to 11:00pm
+91 87129 90028 , +91 83745 50028
Plot 25 C, Raghavendra Colony, Near RTO Office, Kondapur, Hyderabad
Monday to Sunday (All Days) 12.00 Noon to 11.30 PM
Varshith Reddy
Very decent food for a good price. I recommend it if you wanna eat smtg spicy and good.
Hari Prasad
Ju St accompanied my friends, place was too good with good starters. Spicy chicken fry items and prawns were highlighted food items when I visited. So visit and enjoy the moment.
Sai deekshith
Excellent quality of food.Ambiance is very good and tasty.Chicken kabab with green chutney is must try dish . The green chutney very good Best place for non veg eaters at reasonable prices. The staff was very polite and the service is good
Madhu Sudhan Reddy Mandala
we had actually got into the downstairs as families only are allowed upstairs which ambiance and feel wasn't that great. Food is really good and affordable. Its just a kind of normal bar and restaurant with tasty dishes.
Saikumar Reddy Challapuram
Awesome ambiance and really delicious food especially grilled meats try it ASAp
Veera Kondapally
We ordered chicken fried rice they severed us but instead of chicken fried rice they served chicken fried rice it means only 5 pieces of chicken and full of egg and it is called as chicken fried rice very reasonable.
Adrian Toader
Nice place to catch up with some friends. We tried both veg/non veg and they were great!! Crispy corn in particular was awesome!!! They have colored lights above and it looks nice during the night!
Pancham Yadav
One good place for hanging out with friends. They serve beer Tower which is good. Food is amazing and biryani is a must try. Do visit with your friends to have good times and good food plus drinks. They have good offers as well. Check them out too.
Mr Mojo Risin
Lots of veg options and tasty non-veg starters along with wide variety of main course
Sashank chithajallu
Decent place. Very good food. Service is good as well.
Spandana Anaganagaa
Grilled fish is a favorite. Grilled items are good. Fried rice and biryani are okay
Srinath Kakular
Just loved the ambience service and the food. Vegetarian options: Yes they do have vegetarian options. Kid-friendliness: I believe this is not a kid friendly place
Srikanth Gunda
Excellent taste....Non veg starters are very nice and tasty...But felt prices are but expensive...But Food was great...
Ravikiran Gopalam
Wonderful place to hangout. Bar and restaurant is available here. Environment is decent. Food is tasty enough if not fabulous.
Shravan Kumar
Drinks are little above the quality mark, a mug of Budwizer was extatic and soothing! I had ordered some boasted tandoori chicken, it was not disappointing though...
Pavan Kumar
Food is beyond excellent. All the items we ordered are excellent. The smoking zone is just at the entry and it would be better if this can be moved to the backside if possible. Service is relatively quicker. Inside the restaurant there is no concern
Mahesh Tumma
As mentioned in the name it's a good place to enjoy grills. The chicken was tasty but the biriyani tasted just ok. Everyone must try the grills.
Sowjanya sahu
Service is excellent food is good, I had bagara rice and kodi kurra.. Kodi kura which is chicken curry is spicy but the combination was yummy.. Mutton dalcha was 4/5 and it was great with bagara rice too!! Grilled chicken wings were juicy but flavour wise 3/5 overall it's good for a weekend dinner.
Ayusha kar
Food is good here. Both family and bachelor's sitting are different. Mutton items were very yum. You must try the tandoor items. We liked the grilled prawns and you must must try murg malai in starters.
Ahamika Banerjee
If you want to taste some authentic Andhra cuisine, this is a must visit for you. All the dishes that we tasted were delicious. A must visit.