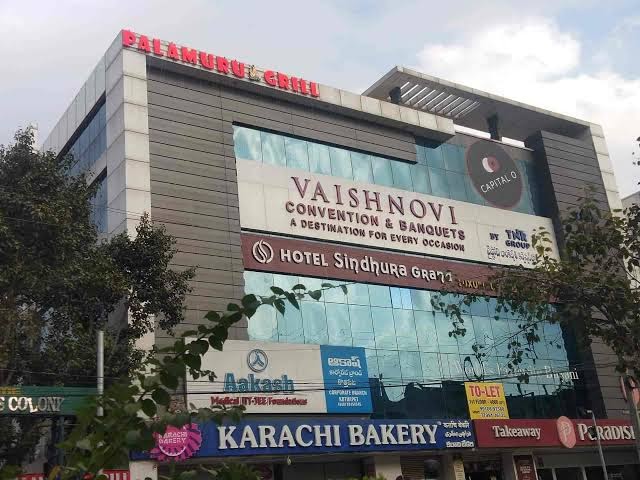 Facilities
Air Cooled Indoor Dining
Valet Parking
Home Delivery
Takeaway
WiFi
Recommended : Table booking

Monday to Thursday
12.00 PM to 04.00 PM,
06:30 PM to 10:30 PM
Friday to Sunday
12.00 PM to 04.00 PM,
06:30 PM to 11:00 PM
+91 906 370 3005 , +91 906 370 6005 , +91 906 372 6009
2nd Floor, TNR Complex (Besides Victoria Memorial Metro Station), Kothapet, Hyderabad
Monday to Thursday 12.00 Noon to 04.00 PM
6:30 PM to 10:30 PM
Friday to Sunday 12.00 Noon to 04.00 PM
6:30 PM to 11:00 PM
subhasmita sathua
This is the regular resturant for me and my friends food is tasty there ambiance is so nice I loved that experience
karthik ramaraju
Starters chicken size is very small for chicken wings and boneless kebab. Quality is good in starters and pulao. Overall it was good with decent pricing.
Jyothsna zoe
Crab fry was crazy and the food tastes good and also very reasonable pricing
Priya Kaithi
Very nice place. I enjoyed the food over here. Non vegetarians can enjoy a variety of cuisine here.
Ruby Nutangi
Nice place to Dine in with Family & Frendz Food tastes good here & I tried kodi vepudu in which flavors got blended so well added spicy to dish & chicken biryani which is mild & had a good taste.
Ranjith Reddy
It was good the taste was awesome and . Fantastic, must try veg pulao nice taste and flavours.
Bellam Bipin Chakravarthy
Wonderful restaurant.Good and fast service at my visit. Live cooking infront of us. Nice and wonderful experience if you visit with your family.
prakash rao
Second visit to palamuru grills kothapet and still the same quality. Chicken lollypop must try and also the wings on the grills. Biryani also too good
G.NAGENDRA PRASAD
Items are good you can choose serving for one person Or two or three etc small plates share to two persons here famous items are kebabs mutton Or chicken with bone or boneless biriyani is ok i ordered chiken kebabs and manchuria nice to taste.
Gaurav Jha
Except food timings....which was bearable... everything was good... specially taste of the food was impeccable, staff was good and ambience was also good
Tales of Mithun
A good place to dine with family and friends. Amidst covid times, the place is well maintained, clean and tidy. We tried Veg. Manchuria, Chicken BBQ Kebabs, Naan, Kadai Chicken and Chicken Biryani.
Dr Madhavi
The food is awesome I had loved the ambience and also the food they had served us hot and fresh food and talking about the quality of the food it is 100% fresh food i had loved especially the chicken 65 I recommend all of you guys for a visit to this hotel i will be giving a 9 out of 10 for this hotel
Jayakishan amara
Newly opened restaurant at kothapet locality. Liked the ambience over here , it's neat and clean. Staff were good and polite. Taste is also very good. Good to see this type of restaurant in this locality. Service is also fast .
Madan Basavaraju
A nice place to visit with family. Taste is awesome for pulaos and biryanis..Veg have very limited items to order but people who eat nonveg have a plenty of things to try..The authentic flavours of each item are great for the taste buds to feel.
Rajnish Dasari
Stone Chicken curry and Stone Chicken Pulav...amazing dishes. If you chose the seats next to the kitchen you can watch them making these dishes live. One thing concerning is, ambience is very dull and gloomy.
Divya R
It's a nice place to visit for nonveg lovers. As the name of the restaurant itself says, grilled chicken/fish/mutton is their speciality. Service is good, no hidden charges.
Arcy genzy
Taste, quantity, service, ambience everything was excellent. One of the best restaurants in the area. Spice levels were bomb
Murali Krishna
In recent times I have never seen a good restaurant like this. I had 4 items All were good. I suggest everyone to dine here.
Srikar Gundeti
It is a very good restaurant. The atmosphere here is really good. We ordered special chicken biryani and the taste was good. It is sufficient for 5 members and after we ordered panner butter masala. Then after we ordered some salads and they were worth the money. Overall it's a good experience here.
krishna
The grill is one of many good restaurants in hyderabad. The food was fresh and tasty. We ordered grilled fish and grilled chicken wings and they were tasty as heck.